Kate Salley Palmer: Born to Cartoon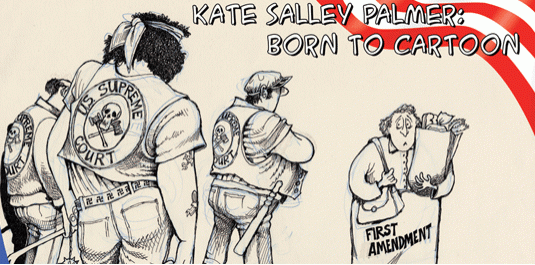 Dates/Times
January 25, 2006 - April 14, 2006

Location
Reading Room Gallery
27 W. 17th Avenue Mall
Columbus Ohio
Kate Salley Palmer: Born to Cartoon is an exhibition of Palmer's editorial cartoons about national and international issues. She claims that cartoonists are born, not made–and her passion for her art is reflected in her work.
An Orangeburg, South Carolina, native, Kate Salley Palmer graduated from the University of South Carolina with a major in elementary education. She began freelance cartooning with the Greenville News in 1975 and in 1978 she became their first full-time editorial cartoonist. She was syndicated by Field (later News America Syndicate) in 1980. She left the newspaper in 1984 and moved to Associated Features in 1986. Her syndication ended in 1989, after which she has devoted her efforts to writing and illustrating children's books.
A collection of her political cartoons titled Growing Up Cartoonist in the Baby-Boom South will be published in late 2005 by Clemson University Digital Press.
On Tuesday, February 21, 2006, Kate Salley Palmer will speak at 4:30 p.m. in the seminar room adjacent to the Cartoon Research Library. A reception honoring her will begin at 3:30 p.m.
This exhibition is cosponsored by the Department of Women's Studies and the Cartoon Research Library. The exhibition, reception, and lecture are free and open to the public.